French 4 (with a Difference)
French 4 (with a Difference)
Course Sections:
Thursday at 3PM (ET)
$

649.00
| | |
| --- | --- |
| | Lectures: 90 Minutes Weekly |
| | |
| --- | --- |
| | Video: Live Web Conference |
| | |
| --- | --- |
| | Certificate of Completion |
French 4 Course Overview
In this French 4 online class, we will read the beautiful book, Le Petit Prince, filtering it through the lens of Scripture. The book brings us to complex grammar usage, more challenging comprehension, and some essay writing.
Other reading material will be used, and we continue studying Francophone culture and interacting in French.
Students will gain depth in all areas of language as well as move toward being proficient French speakers.
I just took the university placement test, and I tested out of their college requirement! But I'm planning on continuing and going to study abroad in a country that speaks the language."

Anna – Student, Summer 2019
Prerequisite:
If entering from a different French source, please contact Mrs. Mac for a short placement assessment.
Class Materials
Grade Level:
We feel very fortunate and blessed by your classes. When I started homeschooling a couple years ago, the foreign language classes really threw me for a loop. My husband and I are both nuclear engineers, and I actually enjoy grammar and history (weirdos, I know), so we feel pretty ok teaching core classes. But there are not many good foreign language options out there. You provide AWESOME foreign language options for our girls. THANK YOU!

Parent of French 1 student, May 2020
---
Société Honoraire de Français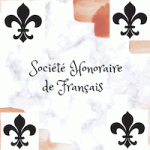 At the end of French 4, high-achieving students are eligible for selection and induction into the Société Honoraire de Français, a national French Honor Society. We are currently one of the only homeschool-based chapters in the country, and excited to offer this honor to our students! Every year a student is a member, the SHF documents it with a certificate.
Meet the Teacher
Marji McIlvaine
Marji McIlvaine (and her husband Rick) homeschooled their six children from K-12, even though she was just going to "try it for one year" with her first five-year-old. The children are all graduated and several are college graduates (2 Magna Cum Laude, 1 Summa Cum Laude). Some of the children are in college now, and some are in the work force, each one walking a God-directed pathway. [...]
| | |
| --- | --- |
| | Lectures: 90 Minutes Weekly |
| | |
| --- | --- |
| | Video: Live Web Conference |
| | |
| --- | --- |
| | Certificate of Completion |